Book Description for Bossy Flossy:
Flossy is the bossiest girl around. She's bossy at home and she's bossy in school. She's bossy to her friends and she's bossy to her cat. Sometimes she's even bossy to her teacher! Flossy doesn't understand why no one will listen to her. One day, Flossy meets Edward, a boy who may be just as bossy as she is. Has Flossy finally met her match?
My daughter rated this book 4 1/2 ****'s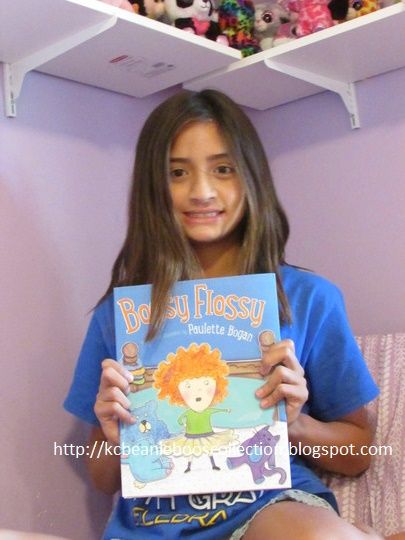 This book is about a little girl who is always being bossy. Her name is Flossy. Flossy was bossy to her toys. She was bossy to her cat. Flossy was bossy to her little brother. She was even bossy to her mother. Flossy's mother told her to go to her room, then Flossy told her mother to go to her room. Flossy was even bossy at school, she messed someone's painting and she told kids how to dress in costumes. Flossy was also bossy to lunch lady. One time Flossy teacher told her to go to time out because she was being bad. And then she told her teacher Mrs. Rosado to go time out. One day Flossy met someone that was also bossy. He told everyone want to do just like Flossy did. He was even bossy to Flossy. So one day Flossy got mad at him and they started to argue. They argued through art, lunch and at nap time. So one day Flossy and he went to time out.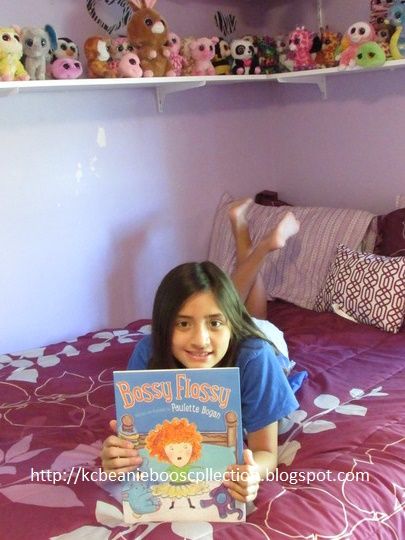 The moral of the story is not to be bossy to anyone because your just gonna get into trouble.
Buy the Book
:
Amazon
,
Barnes and Noble
,
Book Depository
,
Chapters Indigo
Author's Bio: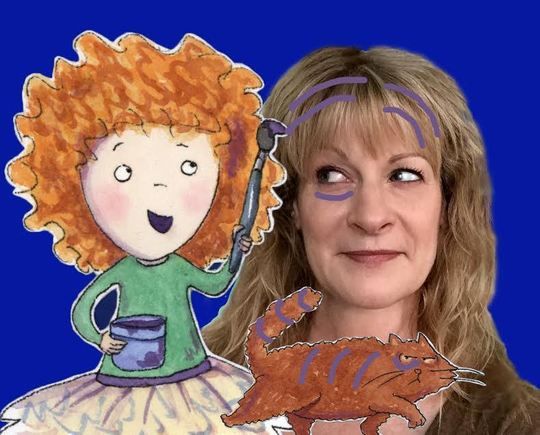 Paulette Bogan admits she was bossy as a child. She is the author and illustrator ofVirgil & Owen, which was chosen as one of Bank Street Best Children's books of the Year 2016, Virgil & Owen Stick Together, which won a Mom's Choice Award Gold Medal for Picture Books, and Lulu The Big Little Chick, which won a Children's Choice Book Award. She lives in New York City with her husband, three daughters, and two dogs. They ALL think she is STILL bossy. But they've never told her to go to her room!
Connect with the author
:
Website
~
Twitter
~
Facebook
Author interview #1 Paulette Bogan
Where do you write, illustrate?
My favorite place to work is upstairs in my studio with my two dogs keeping me company, a Starbucks latte, and some music playing, loudly! If I'm writing I listen to classical music. If I'm drawing, definitely rock. (I'm a big Neil Young fan.)
Do you write everyday?
No, but I think everyday. Maybe more like daydreaming. (I try to write anything interesting down or do a quick sketch, usually on a post-it. There are post-its everywhere in my life!)
In today's tech savvy world, most writers use a computer or a laptop. Have you ever written parts of your book on paper?
I ALWAYS start on a legal yellow pad, never on the computer. I do several drafts on paper with lots of scribbly sketches along the margins. I use the computer as another step in the creative process. However, I always end up printing my manuscript in order to edit. I edit again, and again, and again always on paper… I guess that makes me old school… or maybe just old!
What is your writing schedule?
I don't have a real set schedule except I am useless in the morning as far as drawing or writing! Mornings are for exercise, chores, or my favorite – going back to bed! After noon I am much more creative. I will spend the afternoon in my studio drawing, writing, or procrastinating. (Sometimes my best ideas come when I am procrastinating!)
What made you write a book about a bossy girl?
I'm bossy. Always have been. But most importantly, I am the boss of me! Flossy is a little girl who is very bossy and doesn't understand why no one will listen to her. Eventually after getting bossed around herself, Flossy starts to learn how to channel her bossiness in a positive way. She learns how to be effective not offensive. She learns to express herself so she is heard and not tuned out. She learns how to be the boss of herself.
Tell us an interesting fact about Bossy Flossy.
Bossy Flossy is the first picture book I've done in which the main character is human, not animal. Illustrating a book with human characters instead of animals was on my "to do" list. I don't really have a bucket list, but I have many "to do" lists.
You said you are a big Neil Young fan. What's your favorite song?
Angie
by The Rolling Stones. Sorry, Neil.
Heart of Gold
- my number two song.
To find out more about Paulette Bogan, download cool activities and to check out new books go to
www.paulettebogan.com
Disclosure:
I received a paperback copy of the book from being a member of
ireadbooktours
in exchange of my honest review.